President Trump lashed out this Friday during an international press conference, attacking media outlets CNN and NBC, stating that he would not field questions from the networks.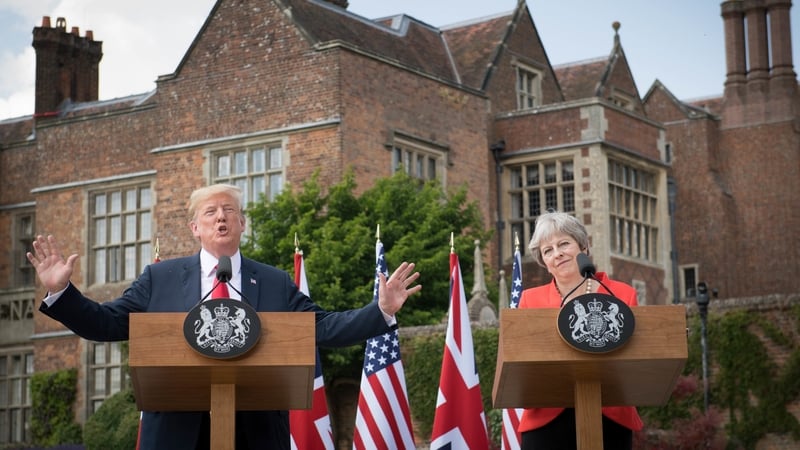 It all unfolded when CNN correspondent Jim Acosta tried to ask a question during the press conference with Trump and British Prime Minister Theresa May.
"Since you attacked CNN can I ask you a question?" Acosta said, pointing to an earlier slight from Trump
"CNN is fake news. I don't take questions from CNN," Trump shot back.
"Let's go to a real network," he continued,  before allowing John Roberts of Fox News to ask a question.
"Well we're a real network too, sir," Acosta interjected.
Roberts went on to ask the president about the current state of relations between the U.S. and Russia.
At the conclusion of the press conference, Acosta shouted out a question to Trump as he stepped down from the podium. Acosta questioned if Trump would tell Russian President Vladimir Putin to stay out of U.S. elections, to which Trump responded "yes."
CNN has long been a target of Trump's tirades often calling the network "fake news."
Administration officials have also battled with Acosta. The president shot down a question from Acosta during a press conference shortly after taking office, and press secretary Sarah Huckabee Sanders has mocked Acosta during White House press briefings, telling him recently, "I know it's hard for you to understand even short sentences, I guess."
At Friday's press conference, Trump was also displeased with an NBC reporter who questioned if the president's criticisms of U.S. allies aides Putin.
"That's such dishonest reporting," Trump replied. "Of course it happens to be NBC, which is possibly worse than CNN."
After criticizing CNN, Pres. Trump declines to take a question from a CNN reporter at joint presser with Theresa May. "CNN is fake news. I don't take questions from CNN."

Pres. Trump then called on a Fox News reporter: "Let's go to a real network." https://t.co/J203tu17bY pic.twitter.com/yxe1Ya2xeY

— ABC News (@ABC) July 13, 2018
Here's how Americans responded:
How embarrassing must it be to be an actual journalist who is somehow connected to #FoxNews and to know that your outlet is a propaganda vehicle and that's the only reason #Trump will call on you for questions?

— Dray Wharton (@draywharton) July 13, 2018
America apologizes to the world, most of us do not support this awful human. His treasonous behavior will go down as the worst in our history.

— Jean (@menard_jean) July 13, 2018
Trump is fake news at its finest

— 🐬🐾Nance 🌊🌊🌊 (@Noazrrk) July 13, 2018
What still surprises me is that people still treat him as legitimate. He lost by 2 million votes, asked Russia for help while running, received said help and now he is making a mockery of every head of state that treats him as legitimate!

— Marlow (@Marlow22) July 13, 2018
COMMENT BELOW
LET US KNOW WHAT YOU THINK